I need Your Help!
If you ever served with a unit that used the F-100 Super Sabre, you probably have information that will be very useful in developing a detailed history of the F-100. Whether you flew the F-100, worked on it as a mechanic or weapons specialist, or served as a squadron information officer, chances are that you can make a valuable contribution to this project.
Personal stories about "life with the F-100" are ideal, especially when they are tied to a specific aircraft.
Photos and slides are especially valuable, so any photos and/or slides you can digitize and attach to e-mail would be great. (High dpi scans are better than low dpi scans!) Actual photos or slides would be even better. (Good copies will work just fine.)
Please provide as much detail as possible: Where was the photo taken? By whom? When? What wing and squadron? What mission? Who are the people in the photo? What was the aircraft serial number? (If you don't know the serial number, a tail number or a buzz number will let me trace the serial number.)
(Don't worry about not having all of the details -- any information is always better than no information!)
Copies of unit histories, personal histories, badges, etc. would be great, as well. In fact, anything pertaining to the F-100 is valuable to me.
To illustrate what I have in mind, please check the following photos and stories.
Photo and story courtesy of Ed Lloyd
Attached is one of the best. I took this of the F100D I was flying in Vietnam. I don't recall the full tail # but I believe it to be 62989. In this photo, it has unfinned nape and 500# hi-drags loaded.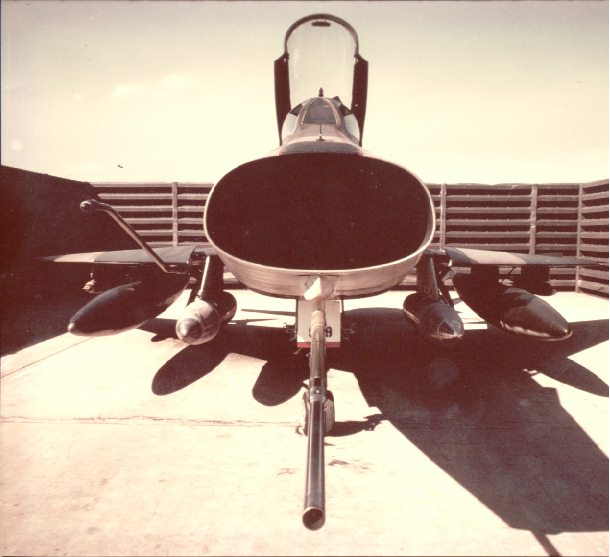 Some time after this was taken the aircraft developed a wing crack in the lower surface wing skin. An engineer assessed the problem and we took the inboard pylons off and fabricated a 0.5-inch X 6-inch band of steel that was attached from one pylon fitting across under the fuselage to the other inboard pylon. This was to provide enough residual strength to fly it that way. I ferried the airplane from Vietnam to the Philippines and on to Taiwan in that configuration. The IRAN (Inspect and Replace as Necessary) facility replaced the entire wing and 989 went back into combat with the 35th Wing, Phan Rang, RVN.
Photo and story courtesy of Ed Lloyd
This A/C, 56-2989, was assigned to the 35th TFW, 614th TFS, (Lucky Devils) Phan Rang, RVN the whole year I was there from 3 May '67 to 3 May '68. I flew a total of 320 missions in the F100D that year and totaled 505 hours combat. All missions were air to ground and all were in country except one mission and that was in Laos during TET '68.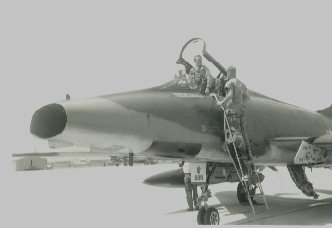 I don't know the prior history of the aircraft or where it went from Vietnam. I did not fly the F100 after Vietnam. Here's a photo of me [Ed Lloyd] deplaning on mission #320 from ole '989 on 1 May, 1968. I departed Vietnam on 3 May, 1968.
Photo and story courtesy of Harold Beasley
This photo of me in front of 56-3073 was taken sometime in 1967-68 at Phan Rang, South Vietnam. The cockpit frame has the name of Capt. Garrett on it -- we flew whatever plane was assigned to us, so the cockpit frame name and the pilot flying the airplane didn't necessarily match.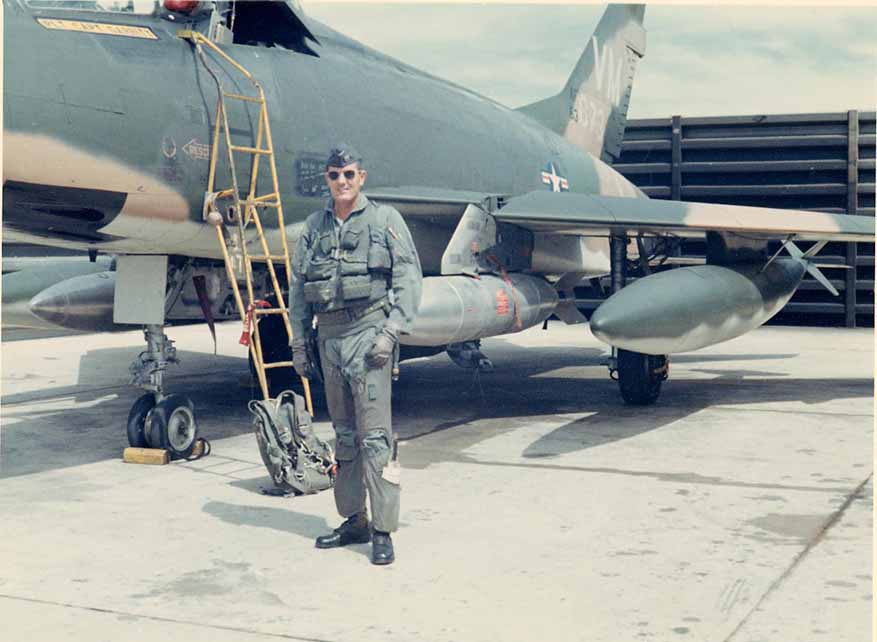 Almost all my combat missions were flown in South Vietnam. But I do remember one mission somewhere into Laos -- I don't really know where, because we scrambled from an alert to hit a target marked by a FAC (Forward Air Controller). Our FAC was an O-2. When we got to the target area, we were holding at 10,000 feet, looking for the O-2, who was also holding at that altitude to keep away from intense ground fire. (We didn't know that at the time!) Anyway, we finally spotted the O-2 when we just about ran over him.
When the FAC marked the target, our flight of two rolled in to hit the target with hi-drags-- only to encounter the most intense ground fire you can imagine. I hadn't seen that much fire since Korea. But we dropped our load without getting hit -- I still don't see how that was possible.
Incidentally, each one of our four squadrons always had two aircraft on alert. Although an alert assignment was't much fun, it did allow us to scramble quickly and fly missions that required our immediate presence.
(Note: Harold Beasley was the Squadron Commander, 352TFS/35TFW, Phan Rang, South Vietnam, from 4 August, 1967 to some time in April, 1968.)
Story by Uriel "Pappy" Alford (Official USAF photo)
Three aircraft of the 57th Fighter Weapons Wing, 1968, North of Nellis AFB, Las Vegas Nevada. (Weapons school.)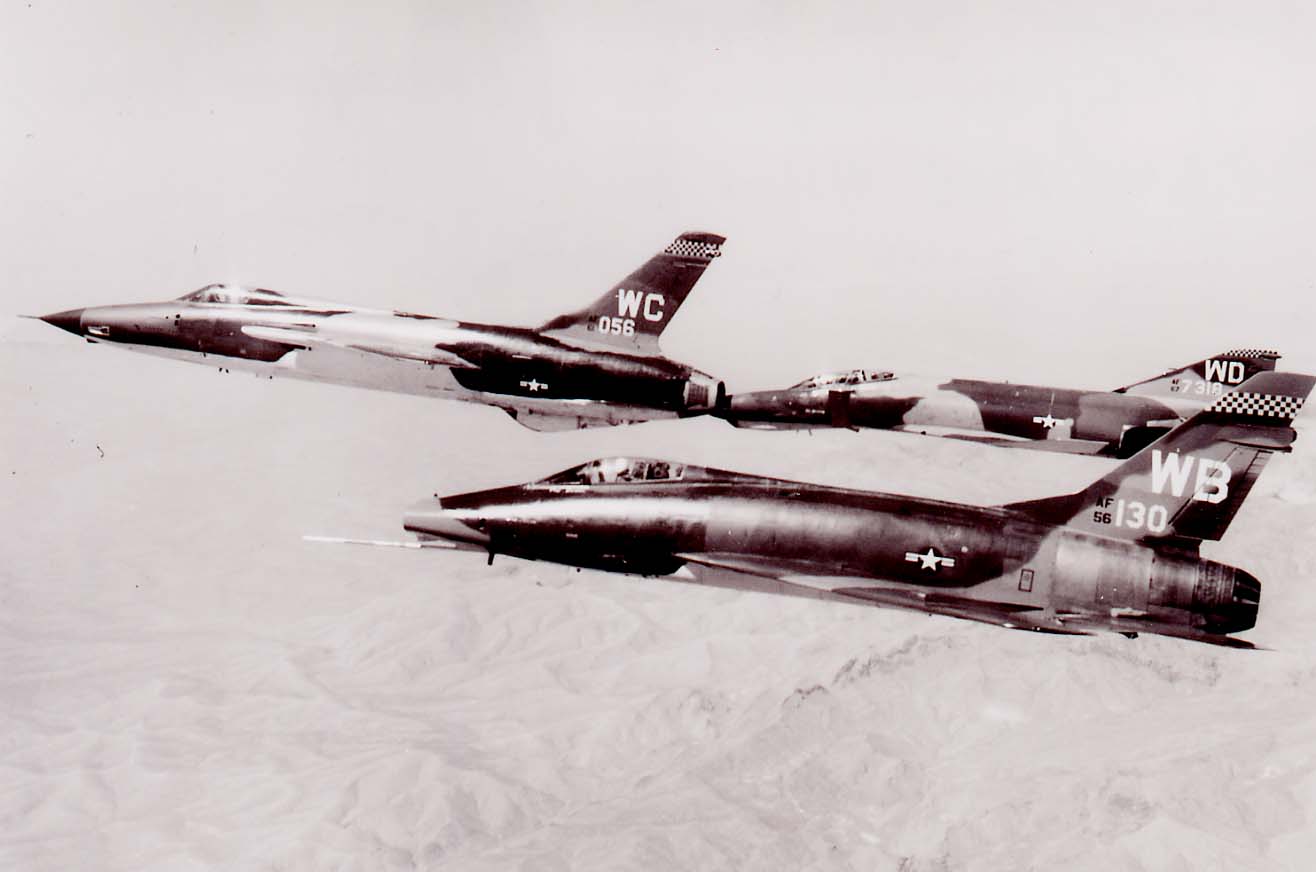 The F-105 was flown by Dale Leathem. The F-4E was flown by me. The F-100D was flown by Don Bartle. Don, Dale, and I were close during our six years at Nellis. I also flew with the Navy for two years. I flew the A-4 Skyhawk off the USS Bon Homme Richard aircraft carrier. During this assignment I dropped some of the first bombs on Vietnam. I retired in 1976 with the rank of Colonel at Nellis Air Force Base.
Photo and story courtesy of Richard J. Roussell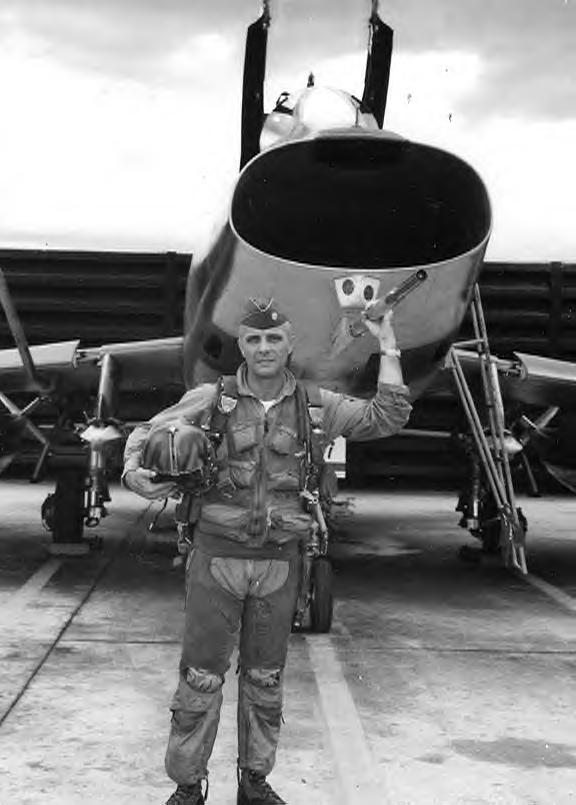 Major Roussell's story: During 1970 I flew with the 31st Tactical Fighter Wing, 416th Tactical Fighter Squadron, based at Tuy Hoa AB, Vietnam. (I was the operations officer of the 416th.) I was transferred to Phan Rang and became the Operations Officer of the 615th Squadron there. When the Commander finished his tour, I became the Commander. That was all done in 1970. I would have stayed at Tuy Hoa the entire time except that the powers that be decided to donate our nice clean little base (Tuy Hoa) to the VNAF (Viet Namese Air Force.)
This picture was taken at Phan Rang after one of the 309 total combat missions that I flew in 1970, combining the assignments at Tuy Hoa and Phan Rang. During those two assignments, I was awarded one Distinguished Flying Cross (DFC) and the Air Medal with 12 Oak Leaf clusters. I earned the DFC after being declared "top gun" on the Ho Chi Minh Trail, where I attacked a road (actually, an elaborate trail system) that was being repaired by a large group of North Vietnamese road crewmembers. The road had been destroyed the night before by B-52s. (Note: This mission was flown out of Tuy Hoa. The picture was taken later, after Major Roussell's assignment to Phan Rang. It was used in a story published by the Stars and Stripes paper of the Far East.)
Note: Dick Roussell flew with the 31st Tactical Fighter Wing, 416th Tactical Fighter Squadron, based at Tuy Hoa AB, Vietnam during 1969-1970. (At Phan Rang, he flew with the 35th TFW, 615th TFS.)
Comment by Dick Roussell: Wish I could find the Stars and Stripes paper of the Far East to give you the exact information about this mission, but I have no idea as to how this can be retrieved.
Photo and story courtesy of Richard J. Roussell
F-100D #55-3503, Project Pave Arrow, Eglin AFB, FL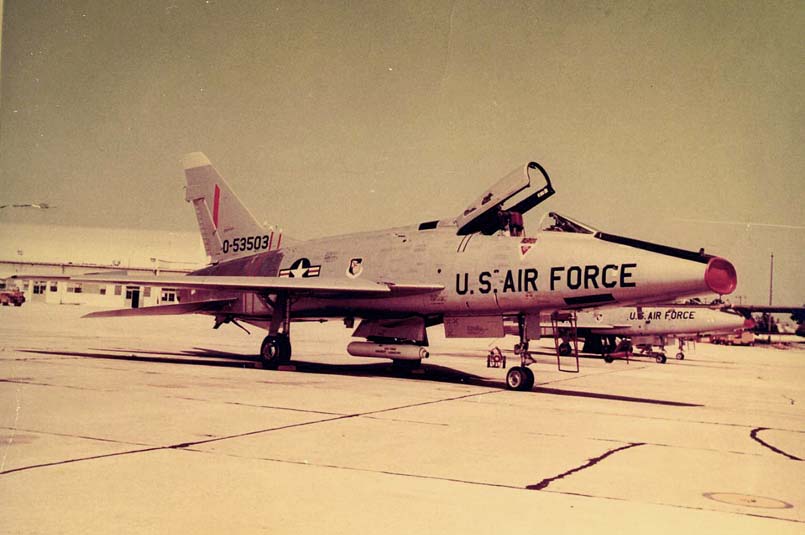 This F-100D was modified for Project Pave Arrow at Eglin AFB, Florida. The unit charged with evaluating this device had ten F-100Ds and four O-2s. Dick Roussell was the unit's commander.
The pod was a laser seeker with vertical display to the pilot on a Ferranti gunsight. (This configuration required a lot of modifications to the aircraft.) The O-2 carried a laser target designator in the back seat. (The company provided two O-2s for testing -- one from Martin Marietta and the other from the Autonetics division of North American.)
We had a lot of trouble with this system. The lasers could not maintain power because of corrosion on the mirrors -- which were water-cooled. (It was impossible to keep out water impurities.) This system was the brainstorm of Gen. Andy Evans in the Pentagon to satisfy a SEAOR (Southeast Asia Operational Request) from Gen. Brown, who was the 7th Air Force Commander in Vietnam.)
SIDE NOTE
The following photo was contributed by Dick Roussell. Date, place, and pilot are unknown. Even if your photo contribution has limited information to accompany it, that photo will still be very useful. A good photo may attract potential story contributors who can supply the missing information.
Photo courtesy of Richard J. Roussell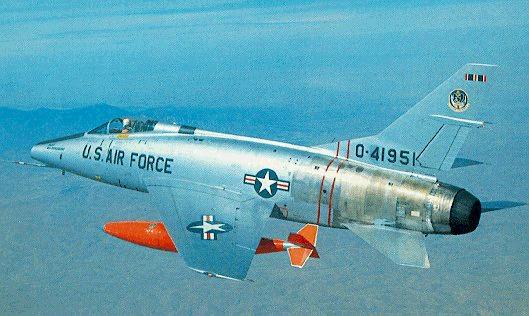 USAF Photo KE-26388

Photo Label: CF2 NORTH AMERICAN F-100C

Original issued as post card by
John Fry Productions
P.O.Box 9444
San Diego, CA 92109

Location unknown. Date unknown. Pilot unknown. Mission profile unknown. If you have any information about this photo, please contact

Peter Rob
3293 Meadow Lane
Murfreesboro, TN 37130

615-896-8776

e-mail address: f100rob@yahoo.com

As you can tell by the following information supplied through the courtesy of Herb Arnberger, Dave Menard, Dave Colbert, and David Deaver, the appeal for additional information about the previous photo was successful. If you see pictures in the database that have little or no information about them, please follow their lead.

Note: The following information was provided through the courtesy of Herb Arnberger.

The last photo in your Help Wanted link is of an F-100C, serial number shown as 0-41951. I flew the beloved "C" bird in the 36th Wing (53rd FDS/TFS at Landstuhl/Ramstein, West Germany) from Oct '57 to July '61. All the F-100C serial numbers in the 36th ran 54-xxxx, and the 53rd had F-100C s/n 54-1950 and 54-1955.

I'll bet my last German snap cap beer that the bird pictured is actually 54-1951, an F-100C from one of the other four squadrons from the 36th Wing (22nd, 23rd, 32nd & 461st.) The 36th converted to F-105 "Thuds" in mid '61, so this photo was most likely taken sometime in the mid '60s. I cannot ID the insignia on the vertical stabilizer.

Herb Arnberger, Hun Driver - July '57-Aug '65.

Note: The following information was provided through the courtesy of Dave Menard, who is often referred to as "Mr. F-100."

That is a picture of a 4758th Defense Systems Evaluation Sqdn a/c, out of Biggs, then Holloman AFB. It towed targets for the Army AAA batteries, and did other things for ADC. They had an ADC insignia on the right upper fin. I saw a few of these transient at England AFB LA in 1964-65 with those day-glo orange drop tanks. Unfortunately, I was not allowed to take any photos of them in those paranoid days.

Note: The following information was provided through the courtesy of Dave Colbert.

This aircraft, 54-1951, was assigned to the 4758th DSES (Defense Systems Evaluation Squadron) of the ADC (Air Defense Command) stationed at Biggs AFB, Texas.

Note: The following information was provided through the courtesy of David Deaver, Commandant (CG-5451), U.S. Coast Guard.

It is difficult to tell from the online photo, but I believe the pilot was my grandfather, Wayne J. Rosenberry, Lt. Col. (Ret.) USAF, and that it was taken while he was stationed at Holloman AFB, New Mexico, in the late 60's to 1970. I'm familiar with it because I believe it was also used on the back cover of an Airman Magazine issue (someone actually gave him a copy at one time), which is where I first saw it. It was there that you could actually make out his name on the nose of the aircraft. (He was a Major at the time of the photo).

If you would like to share F-100 memorabilia such as photos, personal stories, articles, books, wing and squadron patches, or any other F-100 information, please contact me by e-mail or by writing me at my "snail mail" address. You can also contact me to request additional information, to make suggestions, or to provide additional leads.

If you use e-mail, please write F-100 Project in the subject line to make sure that I do not accidentally delete your very important message. (Like you, I get a lot of spam, so I tend to use use my "delete" key often.)

If you want to use e-mail to contact me, you can click on this f100rob@yahoo.com link, you can click on the Contact me link shown in the navigation frame on the left side of your screen, or you can click on the Contact me link in the navigation bar at the bottom of your screen.

All of your contributions will be gratefully acknowledged. For example, note the credit line shown in the preceding photos and stories.

The photos and stories you contribute will be entered into my database and will be available on the web when the project is completed. At this point, I have all 2,294 serial numbers, but now I need to fill in the complete service record for each of those aircraft. In short, this will be a multi-year project! But with your help, I'll wind up with a truly spectacular F-100 history.

To give you an idea of my database work thus far, please click on the

Database link shown in the navigation frame on the left side of your screen. (You can also use the Database link shown in the navigation bar located at the bottom of your screen.)

Please feel free to distribute this material to others who might be willing to help out.

Many thanks for your help!